The Best Car Ramps In 2020
admin
There are dozens of reasons you may need to lift the front or rear of your vehicle off of the ground for clearance to work beneath it—and whether you're doing an oil change, an inspection, or changing or servicing some part beneath, car ramps are the go-to means to do it  for many applications.
If you're in the show car or tuner scene, you might even use car ramps as a way to help show off your pride and joy, too.
At their core, car ramps are simple and almost universal: these tough, wedge-shaped assemblies are usually made of metal or reinforced polymers, plastics or rubber. They're placed in front of your tires, and the vehicle is driven up on top of them, lifting it from the ground without the need for a hoist.
With an affordable set of car ramps, workable access to the underside of your ride is fast and easy. Below, we'll look at some of the best car ramps and take a look at the unique features and attributes that help set them apart.
1. Editor's Pick: RhinoGear RhinoRamps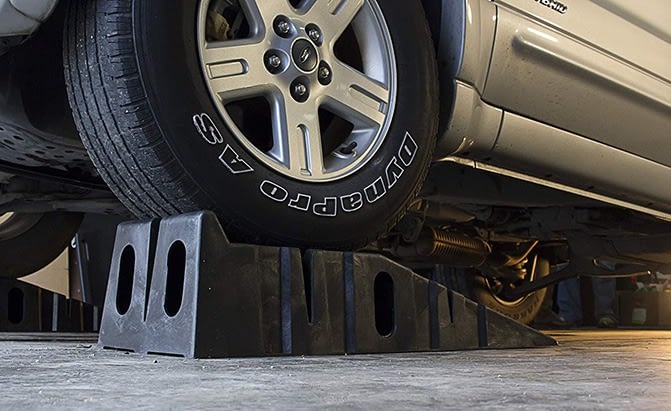 These ramps earn our editors pick designation for their affordable pricing, (mostly) excellent owner reviews, and an array of added features and functionalities that create value. Built by a reputable name in car care and maintenance products, RhinoRamps are highly portable, very strong, relatively light, and nestable into one another—which improves portability and saves space in your workshop or garage.
A non-skid surface is applied to both the tread surface of the ramps, as well as their underside, to prevent slipping, improve safety, and make for easier use. These ramps can support 12,000 pound gross vehicle weight capacities, and are compatible with tires up to 9 inches wide. The 17-degree incline makes them nicely compatible with low-clearance or lowered vehicles, too.
A handful of owners have reported these ramps failing when used the first time—so for safety, always support the vehicle by an alternative means when working beneath it, and be sure to test the ramps by driving on and off of them a few times, before proceeding to work beneath.
Pros

/

Highly portable, compatibility with low-clearance vehicles, affordable, non-slip surfaces
Cons

/

Some reviews have complained of failure
Bottom Line

/

Editor's Pick for Best Car Ramp
2. Race Ramps Rally Ramps
These lightweight ramps are strong, highly portable, and very easy to use. Solid construction ensures maximum strength and a long life, and as the name implies, they're designed for use by sports and performance car owners. Low clearance vehicles are no problem, and the Rally Ramps feature a unique texture that prevents them from scooting, shifting, or scratching floors beneath. Built-in handles make them easy to move from your garage to your trunk, and a 6,000 pound weight rating means even larger cars will pose no problem.
With the built-in handle and no-fuss, no-slip construction, these ramps go from your trunk to supporting your car, lickety-split. They're compatible with tires up to 8 inches wide, and largely-positive owner reviews round out the package.
Pros

/

Non-slip, highly portable, affordable, very easy to use and transport
Cons

/

May not provide enough lift for some applications
3. Nicky Nice Solid Steel Auto Ramp
These solid-steel ramps from Nicky Nice feature a strong 6,500-pound weight rating, durable powder-coat finish, and both safety ribs and punched traction holes for added safety and durability. Popular for use on a variety of cars and trucks, they provide the confidence of all-steel construction and plenty of lift. Affordable pricing and good owner reviews help add peace of mind.
Owner reviews report satisfaction in use on cars, trucks, minivans, and SUVs, though some owners note that these ramps may be too steep for use with smaller, lower vehicles, and there's no anti-slip treatment—so mount and dismount from the ramps carefully, and ideally with a spotter.
Pros

/

Solid, secure, and tough, affordable, provide plenty of lift and support for even larger vehicles
Cons

/

Heavy, limited portability, no anti-slip treatment
Good to Know Before Using Car Ramps
Check First
When considering which car ramp is best for you, be sure to determine exactly what size, load capacity, clearance and anti-skid provisions you need ahead of time. You'll want to decide which ramp is best after understanding the weight of your vehicle, the surface the ramps will be used on, the width of your vehicle's tires, and whether or not your vehicle might be too low to the ground to work with standard ramp sizes.
Lowered Car?
Lowered vehicles and vehicles with long noses (that is, a long distance between the front wheels and the edge of the front bumper) may have difficulty mounting standard-sized car ramps. If you drive a sports car, a show car, or a lowered truck or SUV, you'll want to include the words 'low profile' or 'low clearance' ramps in your search, to ensure you wind up with a ramp that'll accommodate your machine without scraping or damage.
Low Garage Roof?
Just as you'll want to know the clearance requirements beneath your vehicle when selecting a set of car ramps, it's vital to ensure that you have proper clearance ABOVE as well. If you drive a pickup truck and have a garage with a low roof, you might be in for a nasty surprise when you mount your new ramps. More than one owner has learned the hard way that it's best to check the distance between the roof of the vehicle and the roof of the garage against the lift height of the ramps BEFORE use, to avoid an untimely impact.
Anti-Slip
Some car ramps have anti-slip surfaces or other provisions to help keep them in place as the vehicle is being driven on and off. This prevents the ramps from shifting, moving, or otherwise launching out from beneath the wheels of your car or truck as you try to mount them. If you'll use the ramps on a smooth, concrete garage floor, anti-slip provisions are pretty much a must-have. If your garage as a higher-traction dirt floor, or if you'll use them on a gravel driveway, it's less of a concern.